University Student Online Plagiarism
Article
Yu-mei Wang, University of Alabama at Birmingham, United States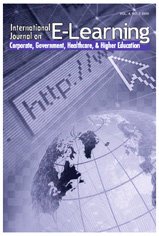 International Journal on E-Learning Volume 7, Number 4, ISSN 1537-2456 Publisher: Association for the Advancement of Computing in Education (AACE), Chesapeake, VA
Abstract
This article reports a study investigating university student online plagiarism. The following questions are investigated: (a) What is the incidence of student online plagiarism? (b) What are student perceptions regarding online plagiarism? (c) Are there any differences in terms of student perceptions of online plagiarism and print plagiarism? (d) What factors contribute to student online plagiarism? (e) What is student perspective regarding the necessity of training? Based on the findings of the study, this article proposes enculturation as a systemic and comprehensive approach in curbing student online plagiarism.
Citation
Wang, Y.m. (2008). University Student Online Plagiarism. International Journal on E-Learning, 7(4), 743-757. Chesapeake, VA: Association for the Advancement of Computing in Education (AACE).
Keywords
References
Braumoeller, B. F., & Gaines, B. J. (2001). Actions do speak louder than words: Deterring plagiarism with the use of plagiarism-detection software. Political Science and Politics, 34(4), 835-839.
Casserly, M. F. & Bird, J. E. (2003). Web citation availability: Analysis and implications for scholarship. College & Research Libraries, 64(4), 300-317.
Center of Academic Integrity (2005). CAI research news release. Retrieved July 23, 2008, from http://www.academicintegrity.org/cai_research/index.php Dawson, J.
DeVoss, D. & Rosati, A. C. (2002). "It wasn't me, was it?" Plagiarism and the web. Computers and Composition, 19(2), 191-203.
Dichtl, J. (2003). Teaching integrity. The History Teacher, 36(3), 367-373.
Eaton, L. L. (2004, July 10). A quarter of UK students are guilty of plagiarism, survey shows. British Medical Journal. Retrieved July 23, 2008, from http://www.bmj.com/cgi/content/full/329/7457/70-c
Ercegovac, Z., & Richardson, J. V. (2004). Academic dishonesty, plagiarism included, in the digital age: A literature review. College & Research Libraries, 65(4), 301-318.
Flint, A., Clegg, S., & Macdonald, R. (2006). Exploring staff perceptions of student plagiarism. Journal of Further Higher Education, 30(2), 145-156.
Haviland, W. (1981). Cultural anthropology. New York: Holt.
Howard, R. M. (2001, November 16). Forget about policing plagiarism, just teach. The Chronicle of Higher Education, B24.
Johnson, D. (2004August/September). The other side of plagiarism. Library Media Connection, 23(1), 98.
Klausman, J. (1999, December). Teaching about plagiarism in the age of the Internet. Teaching English in the Two-Year College, 27(2), 209-212.
Lampert, L. D. (2004). Integrating discipline-based anti-plagiarism instruction into the information literacy curriculum. Reference Services Review, 32(4), 347-355.
Leverenz, C. S. (1998). Citing cybersources: A challenge to disciplinary values. Computers and Composition, 15, 185-200.
McCabe, D. L., & Trevino, L. K. (1993). Academic dishonesty: Honor codes and other contextual influences. Higher Education, 64(5), 522-538.
McCabe, D. L., & Trevino, L. K. (1996). What we know about cheating in college: Longitudinal trends and recent development. Change, 28(1), 28-33.
McCabe, D. L., Butterfield, K. D., & Trevino, L. K. (2004). Academic integrity: How widespread is cheating and plagiarism. In D. R. Karp & T. Allena (Eds.), Restorative justice on the college campus: Promoting student growth and responsibility, and reawakening the spirit of campus community (pp. 124-135). Springfield, IL: C. C. Thomas.
McKenzie, J. (1998). The new plagiarism. From now on, The Educational Technology Journal, 7(8). Http://www.fno.org/may98/cov98may.html
Newstead, S. E., Franklyn-Stokes, A. & Armstead, P. (1996). Individual differences in student cheating. Educational Psychology, 88(2), 229-241.
Overbey, G. A. U., & Guiling, S. F. (1999). Student perceptions of plagiarism and the evaluation of assignments. Journal on Excellence in College Teaching, 10(3), 3-22.
Park, C. (2003). In other (people's) words: Plagiarism by university students – literature and lessons. Assessment & Evaluation in Higher Education, 28(5), 471-488.
Scanlon, P. M., & Neumann, D. R. (2002). Internet plagiarism among college students. College Student Development, 43(3), 374-385.
Shimahara, N. (1970). Enculturation – A reconsideration. Current Anthropology, 11(2), 143-154. Simon, C. A., Carr, J. R., DeFlyer, E., McCullough, S. Morgan, S., Oleson, T., et al. (2001). On the evaluation of academic dishonesty: A survey of students and faculty at the University of Nevada, Reno. Paper presented at the 31st ASEE/IEEE Frontiers in Education Conference, F4A-1-F4A-6 (Session F4A).
Wenger, E. (1998). Communities of practice – Learning, meaning, and identity. Cambridge, UK: University of Cambridge.
Wood, G. (2004). Academic original sin: Plagiarism, the internet, and librarians. Academic Librarianship, 30(3), 237-242.
These references have been extracted automatically and may have some errors. If you see a mistake in the references above, please contact info@editlib.org.
---