Envisioning the Educational Possibilities of User-Created Virtual Worlds
Article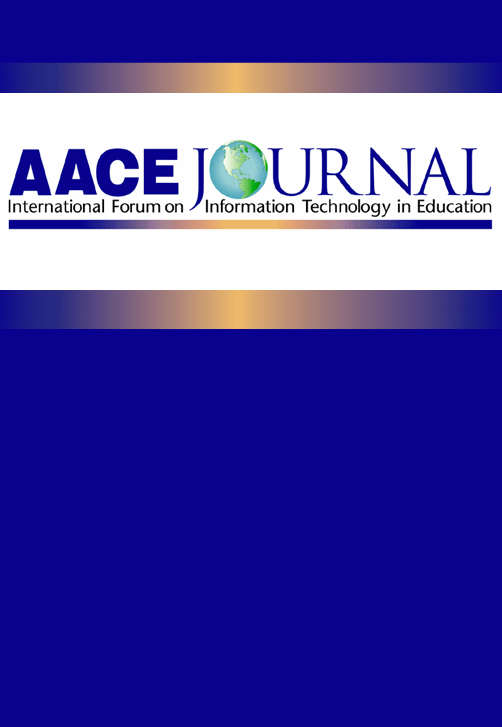 AACE Journal Volume 16, Number 2, ISSN 1065-6901 Publisher: Association for the Advancement of Computing in Education (AACE), Chesapeake, VA
Abstract
Educational games and simulations can engage students in higher-level cognitive thinking, such as interpreting, analyzing, discovering, evaluating, acting, and problem solving. Recent technical advances in multiplayer, usercreated virtual worlds have significantly expanded the capabilities of user interaction and development within these simulated worlds. This ability to develop and interact with your own simulated world offers many new and exciting educational possibilities. This article explores the technical capabilities and educational potential of these new worlds. Additionally, it presents and illustrates a model, which uses interaction combinations, to identify course content and topics having educational applications in virtual worlds.
Citation
Antonacci, D.M. & Modaress, N. (2008). Envisioning the Educational Possibilities of User-Created Virtual Worlds. AACE Journal, 16(2), 115-126. Chesapeake, VA: Association for the Advancement of Computing in Education (AACE).
Keywords
References
EDUCAUSE-NLII . (2004) . New learning ecosystems: NLII 2004 annual review . Washington , DC: EDUCAUSE . Retrieved December 5 , 2006 ,
L inden Lab . (2006) . Research e th ics in second l i fe . Retrieved December 7 , 2006 , from h t tp : / /second l ife .com /know ledgebase /ar t ic le .php? id=062 Second Life [Computer software] . (2006) . San Francisco , CA: Linden Lab . Retrieved December 10 , 2006 , from http://www.secondlife.com
These references have been extracted automatically and may have some errors. If you see a mistake in the references above, please contact info@editlib.org.
---