Developing Technological Literacy: A Case Study of Technology Integration in a Latina Liberal Arts College
Article
Aria Razfar, University of Illinois at Chicago, United States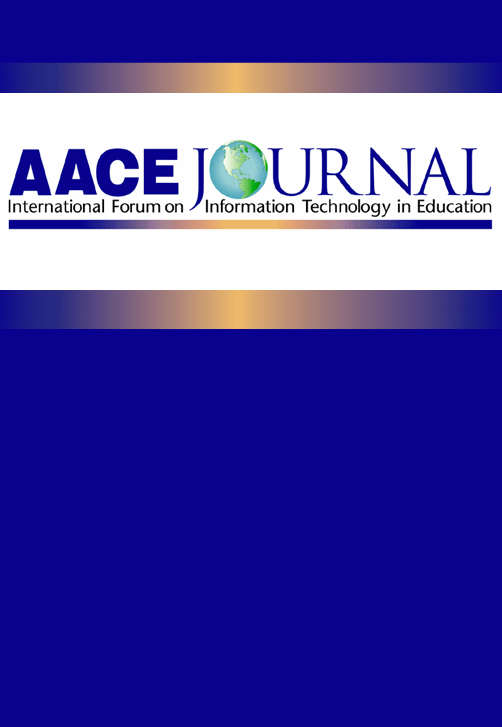 AACE Journal Volume 16, Number 3, ISSN 1065-6901 Publisher: Association for the Advancement of Computing in Education (AACE), Chesapeake, VA
Abstract
Over the last 10 years, information technology has been the fastest growing sector in the global economy. Nevertheless, technology and computer-based instruction have not been sufficiently integrated into the curriculum especially at institutions that serve primarily language minority, low income, and first generation, female college populations. Through student surveys and faculty interviews, this study examined how faculty and students in such an institution evaluated the effects of integrating various technologies on their classroom experiences. Through a federally funded Title V grant, faculty participated in professional development workshops aimed at developing their ability to use technologically mediated practices to enhance learning opportunities through interaction and communication in cyberspace as well as face-to-face interaction. Faculty members from various disciplines participated in hands-on workshops on the use of various technologies such as Blackboard, power-point, and general internet and email uses.
Citation
Razfar, A. (2008). Developing Technological Literacy: A Case Study of Technology Integration in a Latina Liberal Arts College. AACE Journal, 16(3), 327-345. Chesapeake, VA: Association for the Advancement of Computing in Education (AACE).
Keywords
References
Andrews, P. (1999). Some institutional influences on secondary school mathematics teachers' use of computers. Education and Information Technologies, 4(2), 113-128.
Engeström, Y. (1991). Activity theory and individual and social transformation. Activity Theory, 7/8.
Hess, F.M., & Leal, D.L. (2001). A shrinking "digital divide"? The provision of classroom computers across urban school systems." Social Science Quarterly, 82(4), 765-778.
Kook , J . (1997) . Compu ters and commun ica t ion ne tworks in educa t iona l
Lave , J . (1988) . Cogn i t ion in prac t ice. Cambridge , UK: Cambridge University Press .
NCES (2004) . Internet access in U .S . Public schools and classrooms: 1994–
Schwalm , K . (1994) . Us ing compu ter con ferenc ing to enhance c lassroom
Thomsa, M., & Hofmeister, D. (2002). Assessing the effectiveness of technology integration: Message boards for strengthening literacy. Computers and Education, 38(1), 233-240.
Zehr , M . (1997 , December 4) . Teaching the teachers . Educa t ion Week on
These references have been extracted automatically and may have some errors. If you see a mistake in the references above, please contact info@editlib.org.
---