Social Play at the Computer: Preschoolers Scaffold and Support Peers' Computer Competence
Purchase or Subscription required for access
Purchase individual articles and papers
Subscribe for faster access!
Subscribe and receive access to 100,000+ documents, for only $19/month (or $150/year).
Preview
Authors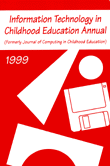 ITCE Volume 2001, Number 1, 2001 ISSN 1522-8185
Abstract
Computers are increasingly being integrated into the pre-school curriculum. They effect young children's peer-mediat-ed cognitive development as well as their social play. Based on observations in a classroom of 4 and 5-year-olds at a full-day child development program at a major university lab school, this article applies Parten's categories of social be-havior as well as theory that comes from a a Vygotskian so-cial- cultural learning theory to young children's computer competencies. The authors describe the behaviors and inter-actions of Active Navigators (including Program, Mouse, and Consolidated Navigation); Vicarious Navigation/Super-on-looker behavior; and the behavior of Spectators/ On-lookers as they interact with developmentally appropriate software during the free choice center time.
Citation
FREEMAN, N.K. & SOMERINDYKE, J. (2001). Social Play at the Computer: Preschoolers Scaffold and Support Peers' Computer Competence. Information Technology in Childhood Education Annual, 2001(1), 203-213. Norfolk, VA: AACE. Retrieved July 31, 2014 from http://www.editlib.org/p/8490.
---